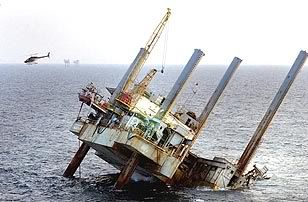 Rick Martinez, the Puppet in Residence at the News and Observer is in rare form this morning, with an article worth examining if only for its sheer ignorance.
Last week the U.S. House of Representatives took the first step at getting at it when it voted, 232 to 187, to lift the congressional moratorium and allow states to decide whether to allow drilling off their coastlines (Jones voted with the majority). While $3-a-gallon gasoline grabbed headlines as the reason for bipartisan support, I think Jones identified the real cause. Up to 75 percent of the payments from new offshore oil and gas leases would go to the states. That could be some serious cash.

Only a fraction of the outer continental shelf is now open to exploration, so the revenue potential of the House bill is enormous. The 8,000 active oil and gas leases, nearly all in the Gulf of Mexico, generate approximately $5 billion for the government per year. That's chump change compared to the cash that could be produced for the states by the estimated 76 billion barrels of oil and 406.1 trillion cubic feet of natural gas currently off-limits offshore.

About 5 trillion square feet of that untouched natural gas reserve lies off the Outer Banks. The potential revenue could buy a lot of beach sand.
Ah yes. Serious cash. You know you're talking to a Pope Puppet of the JLF variety when 'serious cash' trumps everything else. Can't you just see the gleam in little Ricky's eyes?
Despite the House vote, the congressional moratorium is safe for at least another year. The Senate isn't going to passing similar legislation this year. But even ardent moratorium supporters on Capitol Hill admit the mood in the upper chamber is changing. The nation could use the energy now, but time is needed to reverse the intellectual damage caused by oil-hating environmentalists.
Yep. It's a battle of the Oil-Hating Environmentalists versus the Government Hating Puppets. The difference between Rick and me is that I freely admit that I am a oil-hating environmentalist. I am convinced that our oil-based economy has done and continues to do untold damage to the planet, and we be the major source of geopolitical strife for the rest of my lifetime. I want nothing to do with oil and am working wherever I can to eliminate my dependence on it. Yes, little Ricky, I hate oil.
The Puppet continues . . .
For example, I cheered when I heard the House bill passed. People in the group I was with looked at me as if I were nuts. One demanded that I commit to cleaning up the first spill. No problem, I replied. Oil platforms don't spill. Even Hurricane Katrina and her angry friends didn't produce a significant offshore spill. You would have thought I had just declared ketchup a vegetable. My friends didn't believe a word.

::

That's why every North Carolina politician, especially Sens. Elizabeth Dole and Richard Burr, who advocate energy independence and a clean environment, must stand up to the tourism and environmental special-interests and demand a fact-based offshore drilling debate. One day North Carolinians will decide whether or not to allow energy extraction off the coast. That decision deserves to be grounded in scientific reality and not outdated, politically driven myth.
This is truly fucking hilarious. A Pope Puppet pleading for decisions grounded in scientific reality? A Pope Puppet whining that his friends 'didn't believe a word'? When you make your living distorting science and to support a bankrupt ideological agenda, you shouldn't be surprised to find that people think you're full of shit. I don't care much for little Ricky, but his friends sound pretty smart.
And the truth is, Martinez cherry-picks scientific data to support his bullshit arguments all the time. If you want some real life facts about the impact of offshore oil production on coastlines, go to this excellent series of articles about the grossly polluted Gulf of Mexico. They've been living for decades with the lies that Rick Martinez is telling today. And that's a fact.
I still don't understand how the Puppets think that a few more years of oil and gas from the continental shelf are worth the trouble. It all reminds me of a rich old man with terminal cancer who will do anything and everything to extend his life a couple of more days or weeks. What's the point? Oh. I forgot. The point is "serious cash." The Puppetmaster and his buddies get really rich when America goes into energy panic mode. Instead of dedicating themselves to working on alternatives to our destructive dependence on oil, they figure they can make a few billion more dollars by feeding our addiction for another ten years.