This story on MSNBC reminded me of our Sunday shooting discussion, which reminded me of my visit to China two summers ago, where I took this photo in a national park.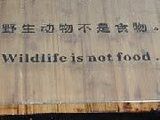 Normally adventurous Chinese diners are eating fewer owls, civets and other wildlife due to fears of SARS and bird flu, according to a survey released Tuesday by U.S. and Chinese conservation groups. The survey of 24,000 people in 16 cities found that nearly 72 percent had not eaten wild animals in the past year, up from 51 percent in a similar 1999 survey, said San Francisco-based WildAid and the official China Wildlife Conservation Association.

"Although not everybody believed that civets were to blame for SARS, the market still has been shrinking. Fewer and fewer people consume civets," Yin Feng, a researcher for the Chinese group, said at a news conference.