Pat McCrory loves him some freebies. In 2004 CPI Security Systems, an alarm company, flew McCrory on a chartered plane to Panthers playoff games in St Louis and Philadelphia. On January 18th, 2004, when the Panthers met the Eagles McCrory flew to Philly with CPI CEO Ken Gill and his employees and with Glen Mowrey (all three pictured on right) who had retired as Charlotte Deputy Police Chief effective January 1st, 2004 and has been law enforcement liaison for the Security Industry Alarm Coalition (SIAC) since. When the plane landed in Philly it was met by an official police escort which sped through the city with lights flashing making way for the party bus carrying McCrory and the CPI employees. The trip was documented by Mowrey's son David in pictures publicly accessible in three web albums: Trip to Philly | Game Time | Post Game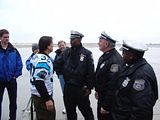 At the time McCrory told reporters that he needed a police escort at the end of the game to protect him from rowdy and disappointed Eagles fans. The truth was that he had a police escort from the moment he set foot in Philadelphia, an indication that the Philadelphia police were under the impression that McCrory was there on official business. McCrory and Gill claimed that there was no ethics violation because CPI had no direct business with the city. They failed to mention that CPI's security alarm business is affected by the city's regulation of private security alarms and that McCrory and Mowrey were directly involved in the development of the regulations which the city approved in 1995.
CPI benefits from Charlotte False Alarm Ordinance to the extent that it caters to it. The alarm business also benefits from Charlotte property crime rates that are among the highest in the nation, higher than New York and Raleigh. CPI claims to have the only False Alarm Guarantee in the industry.

"With the creation of Real Time Response technology, CPI is able to offer you the only No False Alarm Guarantee in the industry. This will assure that if you receive a false alarm fine due to equipment malfunction, CPI will credit your account for the full amount of the fine."
McCrory sat on the Public Safety Committee that heard from the public and several alarm companies in developing the False Alarm Ordinance in 1994. Since retiring in 2004 Mowrey has made a career out of addressing false alarms, a legitimate issue and one which requires a close relationship between law enforcement and the alarm industry but one that McCrory would deny. Mowrey and Gill are both listed as board members of the Charlotte-Mecklenburg Police Foundation.
CPI has some related activities including home wiring, audio systems, intercoms and central vacuum systems. Kenneth Gill also has two limited liability companies, one which owns the Charlotte office building housing CPI and another, Summerland LLC which owns a Cessna jet. This was not the aircraft which took McCrory to Philly. Flight records show that the jet flies up and down the east coast to destinations from Key West to New Jersey and within North Carolina.
For McCrory to claim that CPI had no business with the city is to ignore the fact that CPI's business is highly dependent on its relationship with the city police and the alarm ordinance. Since 1995 McCrory has received $35,350 from CPI employees and their family. $32,000 has come since 2007 of which $8,000 came in excess payments during the primary, refunded but, likely to be applied to the general election. CPI has had at least one run-in with the law. In 2005 Kenneth James Gill, CPI Security Systems, Inc., was cited by the Alarm Systems Licensing Board of the NC Department of Justice for

"Violation of 12 NCAC 11 .0123(a)(2)" - Failure to list the company's Alarm licensing number and the Board's address and telephone number on the consumer's contract.
McCrory wants to clean up corruption but don't take his plate away because he's not done eating. Like Sarah Palin, the rules don't apply to him when he doesn't like them. At a forum on ethics reform in Raleigh McCrory ranted about not being able to get a bottle of water because of ethics laws. He could have bought one like everyone else at the event. McCrory talks about ethics reform but can't comply with either the spirit or the letter of the law. In his filing with the State Ethics Commission he failed to acknowledge that he has a wife, avoiding disclosure of her financial holdings. Like Sarah Palin, he used the mayor's public email account as contact information in connection with his run as a partisan candidate. McCrory still will not reveal the full extent of his financial relationship with Duke Energy including past compensation, deferred compensation, future compensation or continuing benefits including medical insurance and retirement plans.